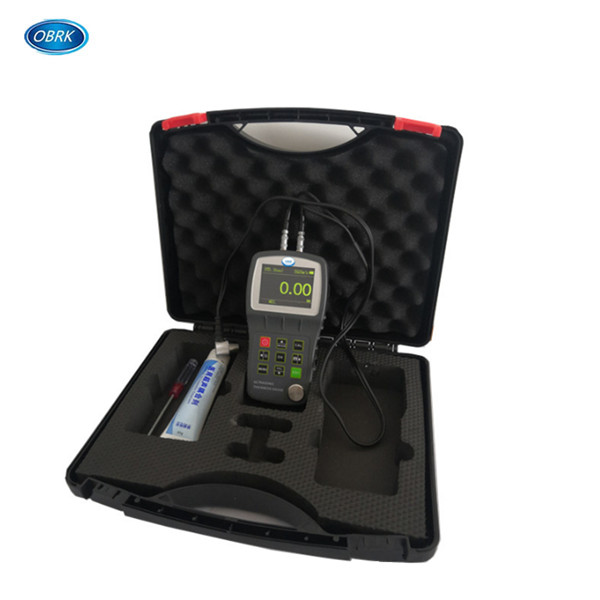 Coating Ultrasonic Thickness Gauge
Category :Nondestructive Testing Equipment
Product Description:
Summary:
The ultrasonic thickness gauge adopts the principle of ultrasonic measurement, and is suitable for measuring the thickness of various kinds of ultrasonic benign conductor materials. This instrument can measure the thickness of all kinds of materials and monitor the thinning degree of various pipes and pressure vessels in the production process. It can be widely used in petroleum, chemical, metallurgy, shipbuilding, aviation, aerospace and other fields.
Thickness gauge is suitable for measuring the thickness of metals (such as steel, cast iron, aluminum, copper, etc.), plastics, ceramics, glass, fiberglass and any other good conductors of ultrasonic wave
Characteristic:
1. High-precision thickness measurement: it has the functions of zero-point calibration and two-point calibration of probe, which can automatically correct the system error;According to the known thickness, the sound velocity can be measured back to improve the measurement accuracy
2. Scanning mode: display the maximum and minimum values of measured materials in real time.
3. USB interface can communicate with the upper computer, realize online statistics of thickness measurement data, and store and save TF card.
Technical parameters:
Model

GTJ-U100

Ultrasonic wave (pulse-echo)

Detection range

0.75-300mm

Resolution ratio

0.1mm(> 100mm)/0.01mm(<100mm)

Readout Accuracy

±(0.5%H+0.01)mm

Unit

mm/inch

Language

Chinese and English

Scan patterns

25times/S

Frequency bandwidth

0.5-15MHz

Velocity of sound

1000~9999m/s

Probe

High temperature/thin wall/coarse crystal

/small diameter (choice)

Probe connection status indication

have

Stock

TF card machine storage, can be exported to save

Communication

The USB interface communicates with

the upper computer

Dimension

145×75×27 mm
Consist of:
| | |
| --- | --- |
| Description | Quantity |
| Body | 1PC |
| Probe | 1PC |
| battery | 2PC |
| Coupling agent | 1 bottle |
| Plastic case | 1PC |