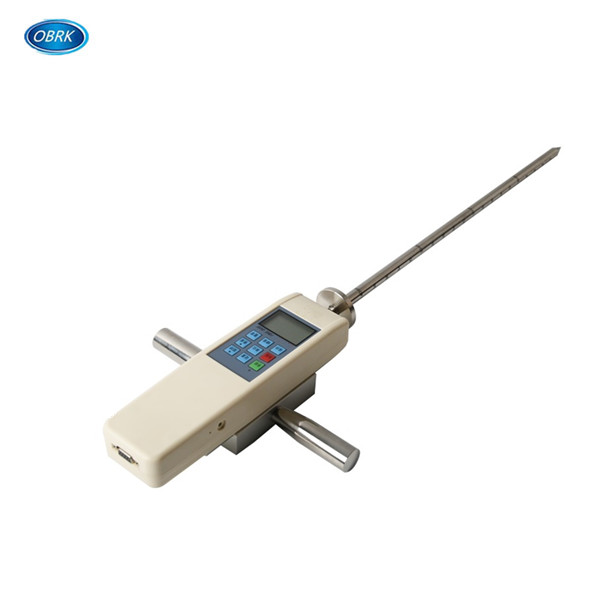 Portable Display Soil Compaction Hardness Tester
Category :Soil Test Apparatus
Product Description:
Features:
1.High-precision and high-resolution: large-screen LCD display, with backlight function (backlight for night use), and positive, inverted reverse function of digitals on the screen.
2.Has a battery capacity display: divide into 3, 2 and 1 grids. If too low electricity, the instrument will automatically shut down.
3.Gravity acceleration setting function: users can input the exact value of gravity acceleration at their discretion to allow the test more precise.
4.Peak value maintaining function: maintain the peak value display until zero adjustment manually.
5.Automatic peak function: Maintain to display the peak values for 2 s before automatically elimination.
6.Large memory storage function: can store 896 test values.
7.Data output function: data can be input in the computer for various analyses through data links.
8.Auto-off time setting: with automatic off-time setting, 10min-90 min automatic shutdown can be set.
9.High quality charging power supply:100-240v of charging voltage can be available, suitable for most domestic and foreign areas.
Technical parameters:
| | |
| --- | --- |
| Model NO. | TYD-2 |
| Maximum load | 50Kg (Kg,Ng and ib Three units can be automatically converts) |
| Resolution | 0.1Kg |
| Accuracy | ±0.5% |
| Measuring depth | 0~450mm |
| Power: charging power supply | 220V/AC;Continuous operating time of battery:6~8 hours |
| Stability | temperature drift :0.2uV/℃(0-60℃);Null drift:≤ 0.1%/8hour /FS |
| Calibration range | full-scale calibration |
| Ambient temperature | 0~+60℃ |
| Ambient humidity | ≤ 80% |
| Allowable overload | 150% |
| Power supply mode | 5nickel cyanogen battery /220V AC charge 4~6 hours |