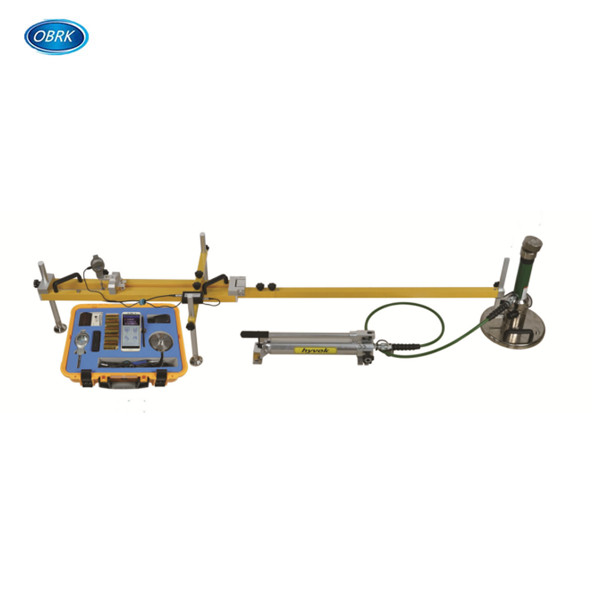 Static Deformation Modulus Test Apparatus
Category :Nondestructive Testing Equipment
Product Description:
Static deformation modulus tester is used to measure the subsidence value of subgrade under static load, so as to evaluate the bearing capacity and deformation of subgrade.
The ground is loaded and unloaded for the first time through the circular bearing plate and the loading device, and then the ground is loaded for the second time. The measured stress under the bearing plate and the corresponding settlement value of the bearing plate center are used to calculate the deformation modulus EV2, EV2/EV1.
Technical Specifications:
Ev2-W

All kinds of soil and earth-stone mixed packing with particle size less than 1/4 of bearing plate diameter

Test impact depth

0~500mm

Host specification

Screen size :5 inches, volume:145×70×10mm, weight:110g

memory capacity

10 gigabytes of storage

power supply mode

Large capacity lithium battery, working time more than 18 hours

display usage

Chinese-english switching display

Printer attended mode

Wireless bluetooth printing

Pressure sensor range

100kN

Displacement sensor range

25mm/0.01mm

bearing plate

diameter:300mm, thickness:25mm, weight:17.5kg

loading device

oil hydraulic pump:pressure100kN

High pressure hose:length2m

Extension of pluggable pressure cylinder pole:
1×40mm,1×90mm,1×120mm,1×160mm,2×60mm

Sedimentation tester

Three-point support frame (with retractable, rotatable lever arm, adjustable base)

size: 2320x570x420mm(LxWXH)

weight: 12.5kg

Body packing

Material:engineering plastics, volume:470×360×170mm, weight:7.0kg

external packing 1

Material: aluminum alloy, volume:1410×510×260mm, weight:72kg

external packing 2

Material: aluminum alloy, volume:1270×440×230mm, weight:32kg