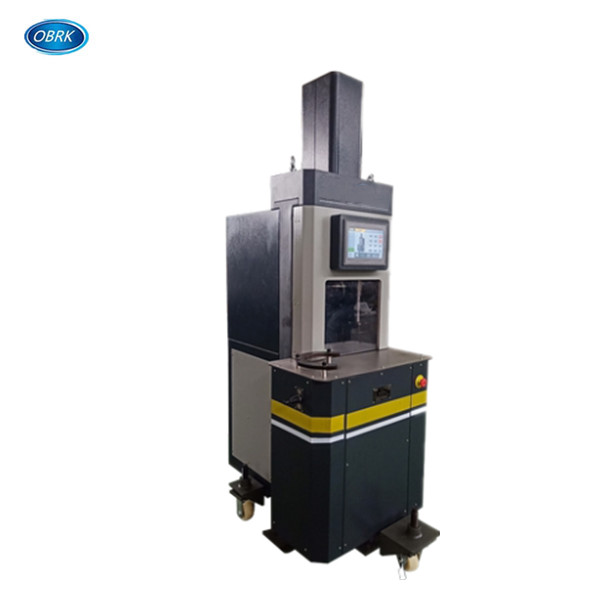 Gyratory Compactor for Asphalt Mixture
Category :Bitumen & Asphalt Testing
Product Description:
Features:
At the same time compatible with Φ 100, Φ 150 mm specimen preparation (Φ 100 specimen kit belongs to optional parts).
1. Axial pressure pneumatic constant pressure, using imported high precision constant pressure valve, axial pressure fluctuation is small in the test process.
2. Equipped with silent air pump and air storage tank, no external air compressor is required.
3. Integrated electric demoulding device, built-in programmable delay automatic demoulding function.
4.You can touch the electric protective door, automatic pressing real-time, under the control of the safety program, the protective door automatically opens and closes according to the status of the instrument.The unique advanced user mode allows the system safety procedures to be turned off to enable testing with the protective door open.
5.Hidden built-in LED lighting system.
6. Imported PLC and 10.1 inch configuration touch screen, speed closed-loop control, Angle, height, number of turns, density and other information can be real-time curve display, specimen molding method can choose height control and number of turns control compaction mode.
7. Can record multiple groups of compaction curve process data and compaction parameters, you can view, and can export Excel files through USB.
8. Provide random calibration kit box (including height and axial load calibration tools) (optional)
The options are not included in the instrument configuration list and users need to order them separately.
Standard:ASTM D6925, AASHTO T312, SHRP M-002

Technical parameters:
KYS-08A

Compacted Cylinder Mould

150x250mm

(Diameter 100mm mould can choice)

Height of Preparation Specimen

50- 200 mm

Angle of Gyration


0.5° - 2.0°

(Factory default internal Angle 1.16°)

Number of Gyrations

1 ~ 999 adjustable

Rotating working speed

5 ~ 40 r/min adjustable,

Factory default: 30±0.5r/min

Axial compaction pressure

600KPa±10KPa (DEFAULT SET)

Φ150 mm:200 ~700kpa(When using a built-in air source)

Φ100 mm: 200 ~ 1500 kPa(When using a built-in air source)

Power

220V,1.6KW

Net weight

470KG

Dimensions

1100×800×2120mm